Hammocks are synonymous with relaxation and luxury in the Australian outdoors, providing a delightful way to revel in the sun's embrace. With an array of sizes and designs on offer, it's no surprise that hammocks have become a must-have for numerous Aussie homes. In this insightful guide, we'll explore why hammocks are superb and highlight different dimensions - single, double, and family-sized - to assist you in selecting the ideal hammock for your preferences.
Why Australians Love Hammocks
Comfort: A Soothing Experience
The comfort of a hammock is beyond compare. Its rhythmic swing induces a state of tranquillity, and the gentle sway can help you drift into peaceful slumber. Hammocks are crafted from soft, breathable fabrics, providing abundant support for hours of rest. In Australia's tropical climate, the breathability ensures that you stay cool, making hammocks a preferred option for outdoor relaxation.
Portability: The Traveller's Delight
Hammocks are incredibly portable and easy to transport. Whether you're headed to a coastal beach or a secluded bushland, you can carry your hammock with you. Quick to set up and convenient to pack, they are an Australian traveller's delight, offering comfort on the go. The compact nature also makes storage a breeze, perfect for those with limited space.
Versatility: Relaxation Anywhere, Anytime
Whether you fancy a quiet backyard retreat or a cosy spot on the beach, hammocks offer versatility like no other. You can set up a hammock indoors as an unconventional reading nook or outside for a perfect sunset view. In Australia, where outdoor living is cherished, hammocks offer the flexibility to enjoy different settings throughout the year.
Eco-Friendly: The Natural Choice
Australian-made hammocks often utilize natural and organic materials such as cotton, contributing to an eco-friendly lifestyle. Unlike conventional outdoor furniture, they require no power or fuel, aligning with Australia's commitment to environmental sustainability. The lightweight design also minimizes material usage, making hammocks a responsible choice for nature lovers.
Exploring Different Types of Hammocks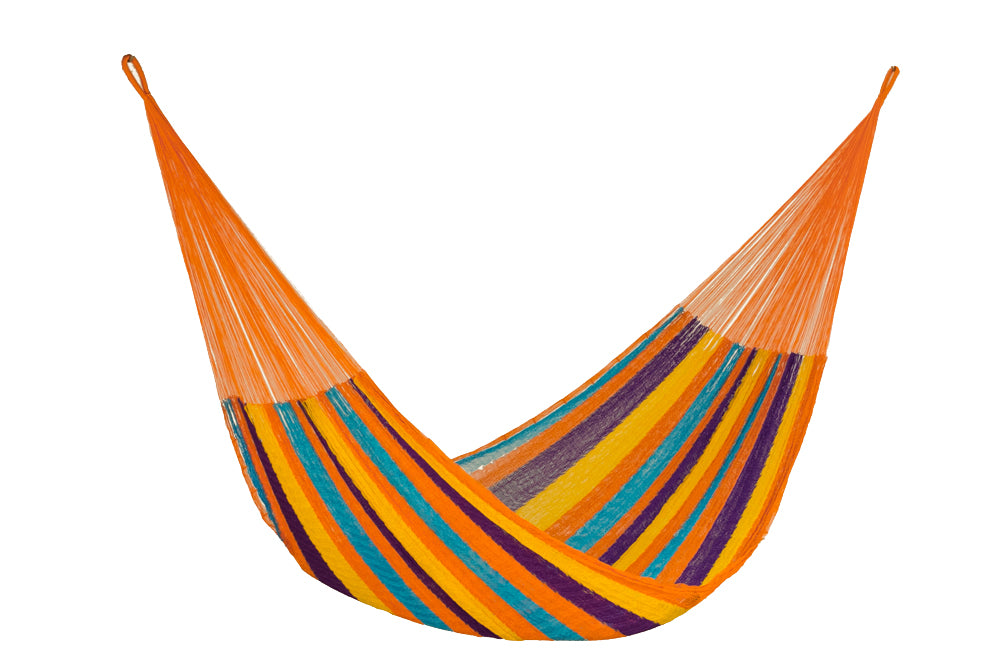 Single hammocks, tailored for one, are perfect for those desiring a nimble and lightweight relaxation option. Ideal for solo naps or peaceful reading.
Designed with couples or friends in mind, double hammocks provide a spacious escape. More generous than single counterparts, they offer ample space for shared relaxation.
Family hammocks cater to larger gatherings and are well-suited for family leisure. More expansive than double hammocks, they provide sufficient room for collective comfort.
Choosing the Right Hammock
Material Considerations
The material of a hammock is crucial for both comfort and durability. Cotton hammocks are popular for their softness and breathability but may require more care. Synthetic options like nylon offer resistance to weather and are perfect for those near the beach or in humid areas of Australia. Consider the climate and your preferences when selecting the material.
Size Matters: Single, Double, and Family
Size plays a significant role in choosing the perfect hammock. Single hammocks are ideal for solo relaxation or reading. Double hammocks cater to couples or friends, providing a shared escape. Family hammocks are more expansive, accommodating gatherings or family leisure. In Australia, where outdoor activities are enjoyed year-round, having the right size ensures comfort for all occasions.
Maintenance and Installation
Keeping Your Hammock in Top Condition
Regular maintenance ensures that your hammock continues to provide comfort and stays in great condition. Washing guidelines vary by material, so always follow the manufacturer's instructions. In Australia's harsh sun, consider UV-resistant fabrics or storing the hammock indoors when not in use to prolong its life.
Installation Tips
Installing a hammock properly ensures safety and maximizes comfort. Whether attaching to trees or using a hammock stand, ensure that it is secure and at the right height. Adjustable hammock straps are popular in Australia, offering flexibility and ease of installation. Consider professional installation if you're unsure, as safety should always be paramount.
Conclusion: Embrace the Hammock Lifestyle
Hammocks present a unique and pleasurable means of outdoor relaxation in Australia. With diverse sizes, you can effortlessly find the one that matches your needs, whether it's solo relaxation or quality time with loved ones. Why wait? Invest in a hammock today, and experience the unparalleled relaxation it brings.