When it's time to brainstorm and tap into your creativity, sometimes your regular office or classroom environment just isn't enough. That's why companies globally, including creative agencies and even Google, create vibrant, playful pod zones, often reminiscent of a kindergarten or primary school classroom. Shapes, colors, innovative 'fun' furniture, portable blackboards – they're all designed to break down the barriers of traditional corporate seriousness and bring the fun back into the creative process.
CREATING AN INNOVATIVE SPACE WITH HAMMOCKS
One way of creating such a space is an innovative use of furniture, where the body's posture doesn't lend itself to the rigidness of a regular office chair.  Setting up a hammock or hammock chair in your very own creative zone works great on two fronts: big, bold colours of your choice stimulate the visual aspect, and placing your body into a comfortable hammock or hammock chair has a definite instinctual play element you would normally associate with your leisure time.  It could be set up easily indoors, with the use of a lightweight hammock stand or hammock chair stand that can be quickly assembled and disassembled. Hold the hammock securely without the need for beams or trees. 
The hammock and stand can also be taken outdoors for fresh air and extra inspiration while you recline on your hammock out in nature.  Then surround yourself with whatever brings you further inspiration such as a favourite book, a souvenir from your travels, an inspiring quote written out. The possibilities are endless.  And as you hang in the air and sway gently, feel that elusive idea pop into your mind as though it was always there to begin with.
HAMMOCK DECORATING INSPIRATION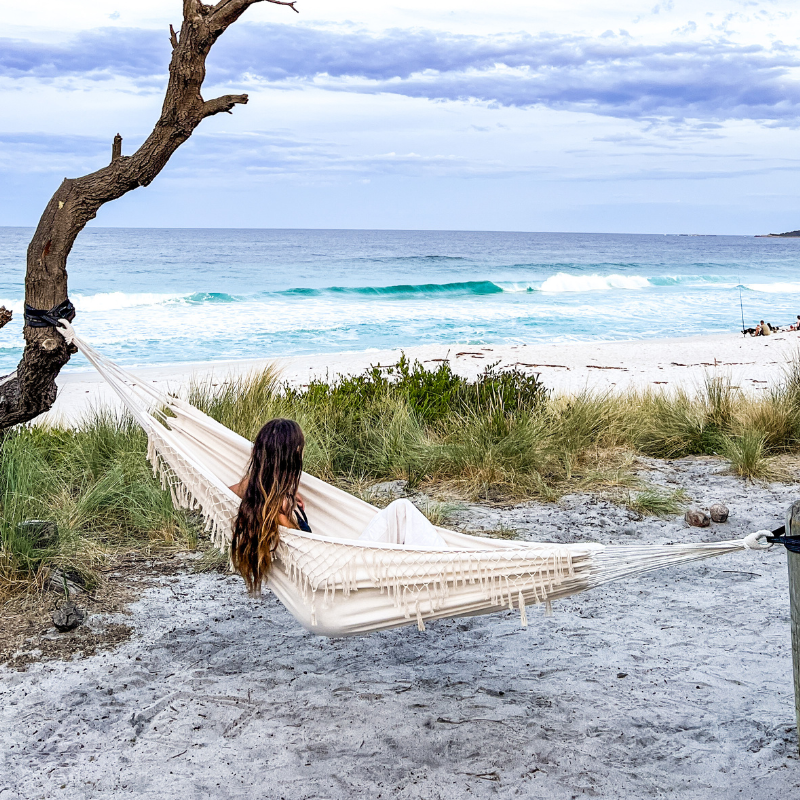 When we envision our dream vacation, we often see a serene hammock swinging between palm trees on a breezy island, with waves breaking softly nearby and a cozy blanket at hand. The good news is, this dreamy retreat doesn't require an expensive trip to the Caribbean. Here are five daydream-worthy locations, both indoors and outdoors, that will convince you to buy a hammock for your home:
#1: Create a Home Vacation Retreat in Your Home
Imagine waking up in this dreamy space. A gorgeous woven pod swing is the cherry on top of a vacation home sundae, with a lovely throw blanket and two fluffy pillows. You'd spend most of your night in this vacation retreat when the beach became too hot. Let's kick off our shoes. Curl up with that book we'd promised ourselves we'd read for six months (okay fine, for a whole year).
#2: Make a Sweet Oasis Outdoors
A hammock is a little hideaway ideal for watching the family's yearly baseball game. You'd love to put up speakers next to a bar cart with fresh-squeezed lemonade and game-time snacks, just in case we wanted to have a dance party.
#3 Add A Vintage Touch To Your Guest Room
We're quite sure we'd never be able to get out of a hanging pod hammock lined with a giant flokati once we laid back in it. It's not like we'd mind as long as someone stopped by now and again with a drink and some nibbles. While the family is busy with their everyday chores, any guest can escape this calm refuge.
#4 Create a Sanctuary in Your Rooftop
The epitome of summer in the city is relaxing in an outdoor sanctuary. Imagine being surrounded by greens and blossoms high above the rush and bustle of the streets below. Thanks to the window-box style planters, your roof deck seems private and grounded. A woven rope hammock, like this one, conforms to your body as you rest and relax. It effectively pulls us from "ahh" to "zzz". Additional lounge chairs provide a perfect place for guests (or family) to wait their turn.
#5 Add a Fun Element to Your Kid's Room
Your kid's bedroom doesn't need to be boring! Add a sensory swing or a child-friendly hammock chair where they can read their favorite book. Swinging has been demonstrated repeatedly to be the most popular activity among children. So, bring a little bit of the playground ambiance into your child's room with a good old swing. No rain or cold weather will stop this enjoyable and beneficial exercise. Indoor swings may be the focal point of space since they're surprisingly adaptable. It looks sleek and industrial or even full-on bohemian. When your child has friends visiting, you can use the swing as extra sitting.