Hammocks can be enjoyed all year round.  And yes, even during winter.  The Aussie sun is never far away, even if the temperatures drop.  So when you see some sunshine, get out onto the verandah, balcony, or backyard in a sunny spot. Take a throw rug with you along with a good book and a spill-proof mug of hot chocolate.  Then settle in for a suspended-in-the-air reading heaven experience in your hammock.
It's approaching the time of year when, under normal circumstances, holidays would be on the horizon. This week, we bring you our stay-at-home winter reading selection from Australia, for comfort and relaxation wherever you've chosen to hang your hammock this season.
Double Size Blue Lagoon Brazilian Hammock
Relaxing Reading Haven
Reading in such a cozy setting is pure bliss. You can get through countless chapters of your favorite novel, sustained by a combination of your page-turning book and the comfort of being cocooned in your hammock while being gently warmed by the winter sun.

But even if the weather doesn't hold up, you can bring the hammock indoors and set it up.
Pro Tip: For extra coziness, I suggest taking a pillow for your head and owning a cat that likes to jump in for a nap from time to time. You'll spend hours there.
BENEFITS OF READING DURING WINTER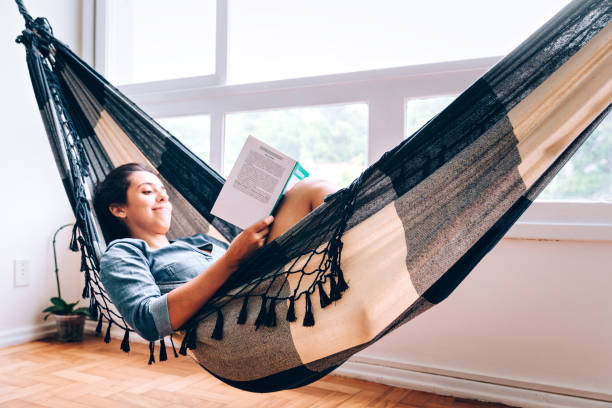 The weather may be gray or cold, and it will be both on most days. The days might easily make you want to sleep in and spend the entire day under your blankets. There is, however, a remedy: books and reading! You'd be astonished at how many novels (along with hammocks!) are practically created for beating the winter blues.
Travel Anywhere!
When it's cold and gray for a long time, most of us, including snow lovers, need a break. Find Summery Reads that will help you forget about your current situation and feel as if you've genuinely escaped the cold. The best books don't make you want to read them. They want to explore, fight, learn, chat and do everything the characters do. We allow our brains to live the thrilling existence implied in a book when we choose to read during quiet and cold times.
Stay Warm Indoors (In Your Hammock!)
Apart from skiing, many pleasant activities necessitate a little more warmth than winter generally provides. You get to do something while nestled in a beautiful blanket if you choose reading as your winter-blues go-to. Many people choose to have a wonderful cup of tea to accompany their reading habit since a cuppa can help to combat the harsh frost. Fond of reading a truly terrifying psychological thriller or a thrilling mystery? It becomes even more enjoyable when you make your physical body feel extremely safe and comfortable while doing so.
Spend Time Reading With Your Loved Ones
Children are frequently among those who become the most "cooped up" due to prolonged periods of unfavorable winter weather. If you're one of the brave souls who spends a lot of time with small children who can't run outside right now, reading is the answer. Find a stack of novels that kids will like reading again and over. You can designate one or two nights a week as "reading nights" in your family, and everyone from toddlers to teenagers can gather on the most comfortable furniture in the house.
Winter might make you feel down in the dumps, but getting together with people you care about can help. Indeed, if you live alone, consider creating a reading club to spend time together reading or joining a book club to meet new bookworms and have book discussions! Having some peaceful time together will help you feel surrounded and loved, which can't harm when it's so chilly and uncomfortable outside.
Gain New Knowledge
One of the simplest strategies to get rid of the blues is to remind yourself of all the fascinating information available. Consider something you wish you had studied more about in school or college: books might be one of the best ways to be a "lifelong learner." That could be exactly what you're looking for in the library; the book that will teach you the fundamentals is right there. Learning something new, whether it's a computer language or a history of the night sky, makes you feel like you're moving and growing, even if the plants outside aren't changing at all. Get a book or two about gardening if you want to combine two tactics. It will teach you something while also reminding you of the warmer weather that will arrive in a few months.
Audiobooks Are a Thing, Too!
Don't feel like reading real books? Don't worry. We got tech! There are several audiobooks that you can read while comfortably hanging in your hammock. Find interesting books that'll keep you warm and cozy during the winter.
Great Stress Reliever
Despite how much stress you're under, it all fades away when you're immersed in a fantastic tale. Well-written literature can travel you to other places, whereas an intriguing article can keep you in the current moment, lowering tensions and supporting you in relaxing.
Boosts Memory
When you pick up a book, you must remember a range of characters, their backgrounds, desires, history, and peculiarities, as well as the various arcs and sub-plots that each novel contains. That's a lot to keep in mind, but brains are remarkable things, and they can readily recall these facts.
Every unique memory you generate develops new synapses (brain connections) and strengthens old ones. It aids short-term memory recall and mood stabilization.
Harness the Power of Hygge
Originating from Denmark, the concept of "Hygge" (pronounced hoo-ga) embodies a mood of coziness, comfort, and contentment, which is perfect for winter reading in a hammock. Hygge is all about creating a warm atmosphere where you can enjoy the good things in life. Pair your reading with a soft throw, comfy cushions, and perhaps a warm drink like hot cocoa or a spiced chai latte. This Scandinavian concept, when embraced, can transform your winter reading experience into an exceptionally cozy, immersive, and joyful journey.
Final Thoughts
Winter reading in a hammock is about more than just keeping busy during the colder months. It's about taking the time to slow down, enjoy the serenity, and immerse yourself in the world of stories. Whether you're venturing into unexplored territories with thrilling adventures, learning something new, or spending quality time with loved ones, reading offers a rich and rewarding experience. So, grab your favorite book, wrap up warm, and prepare to lose yourself in the pages of your next adventure. Happy winter reading!