Once upon a time, you purchased a hammock stand from Siesta Hammocks, entranced by its promise of leisurely afternoons swaying gently in the breeze. Now, you're looking at it wondering: is there more to this than just laying down and catching a nap? You bet there is! With a little creativity and a dash of ingenuity, you can transform your hammock stand into a multi-functional relaxation hub. Let's explore five amazing ways you can utilize your hammock stand beyond the typical lounging.
Create a Camping Haven at Home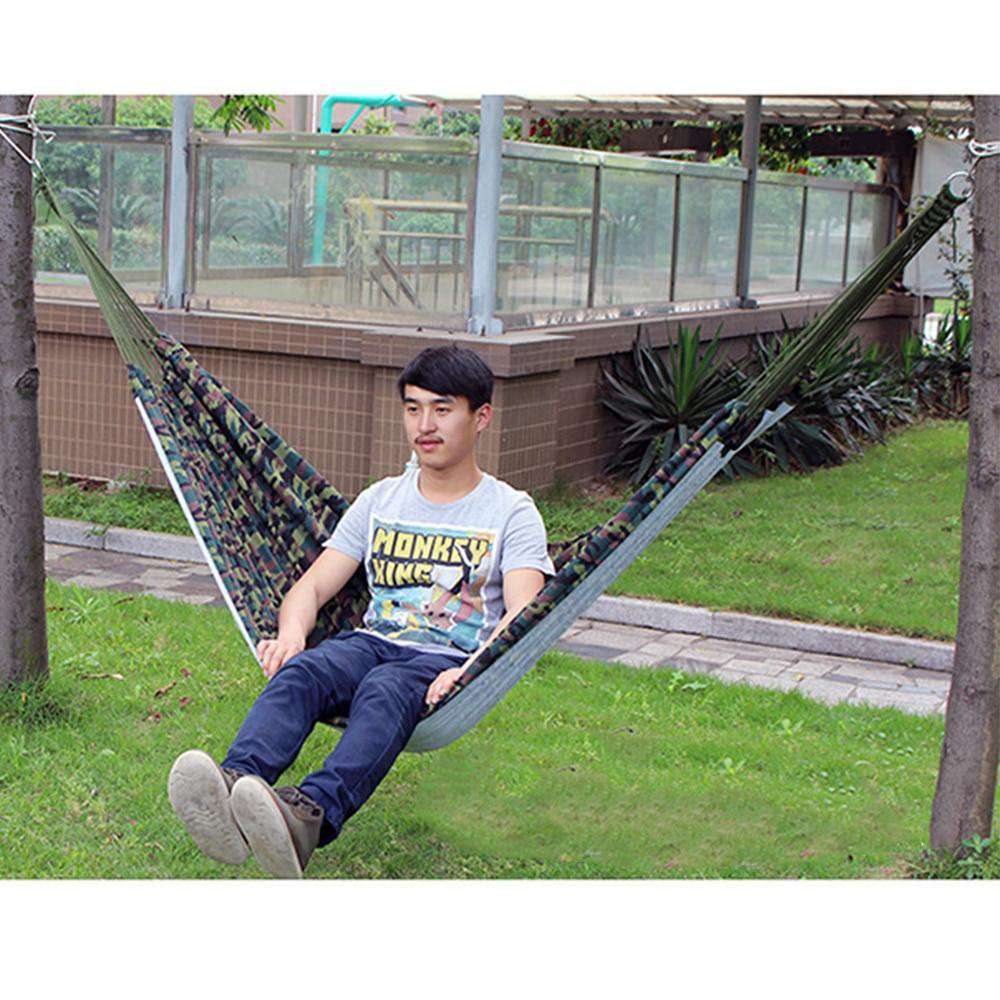 There's nothing quite like the freedom of a camping hammock. The breeze against your face, the stars above your head—it's an experience like no other. But what if we told you that you can bring that camping charm to your backyard? You only need a camping hammock and your hammock stand.
Set your hammock stand up in a spot with a clear view of the sky. Arrange some camp-friendly activities nearby, such as a fire pit for roasting marshmallows or a table with a lantern and camping gear. Now, you've got yourself a cozy camping haven, perfect for backyard adventures!
Build a Cozy Reading Nook
Are you a bibliophile searching for the perfect reading nook? Look no further than your hammock! There's something about curling up in a hammock with a good book that makes reading even more enjoyable.
Transform your hammock stand into a book lover's paradise by creating a dedicated reading spot. Stack your favorite books nearby, add a side table for your coffee or tea, and maybe a cozy blanket for those chilly evenings. There's no better way to lose yourself in the pages of a good book than in the comfort of your hammock.
Set up an Outdoor Cinema
Outdoor movie nights are all the rage, and your hammock stand can play a pivotal role in this. All you need is a white sheet, a projector, and your favorite film! Hang the sheet from your hammock stand and set up the projector at a suitable distance. Bring out some popcorn, drinks, and invite your family or friends for an unforgettable movie night under the stars.
Create a Kids Swing with Hammock Swing
If you have children, your hammock stand has the potential to transform into a playground. A hammock swing can be an exciting addition to your backyard that your children will adore. Set it up on the hammock stand and ensure it's secured safely. Your kids will enjoy endless hours of fun, and you'll appreciate the versatility of your hammock stand.
Make a Space for Meditation and Yoga
Your hammock stand can also serve as a retreat for mindfulness and tranquility. A hammock is an ideal place for meditation or even some gentle yoga stretches. The gentle sway of the hammock
can add a soothing rhythm to your meditation or yoga practice. Choose a quiet spot for your hammock stand, add some calming elements like wind chimes or a small water fountain, and you've got yourself a private Zen retreat.
Develop an Artistic Corner
When it comes to creating an artistic sanctuary, comfort is key. For painters, writers, or any creative souls, a hammock can serve as a brilliant outdoor studio. Not only will the hammock provide a cozy place to sit or lay down, but the gentle sway can also help stimulate creative thought.
To make your artistic corner, simply set up your hammock stand in an inspiring outdoor location. Arrange your art supplies on a nearby table or in a portable carry-all. You can even set up an easel next to your hammock stand if you're a painter. Now, your hammock has become a place of creation, inspiration, and tranquility.
Design a Wildlife Watching Post
For nature enthusiasts, a hammock stand can provide a comfortable wildlife watching post. It's unobtrusive, quiet, and when you're nestled in a hammock, you're at the perfect height to observe birds and other creatures.
All you need is a pair of binoculars, a notebook for jotting down your observations, and a field guide to identify any species you spot. You'll be surprised at how much wildlife activity you can see from the comfort of your hammock stand.
Create an Outdoor Office
With remote work becoming increasingly popular, why not take your office outdoors? Transform your hammock stand into an al fresco workspace. Add a laptop stand or lap desk and you've got yourself a comfortable, airy office with a great view. Just remember to protect your devices from the elements!
Construct a Social Hub
Want to catch up with friends but tired of the usual indoor settings? Your hammock stand can serve as a unique social hub. Arrange multiple hammocks (if space allows) or hammock chairs around your hammock stand. Add some side tables, string up some fairy lights, and create an inviting ambiance. It's perfect for casual get-togethers or even small book club meetings. Who wouldn't love chit-chatting while swaying gently in a hammock?
Assemble a Stargazing Spot
If you love stargazing, your hammock stand is a perfect tool. Lay back in your hammock, perhaps with a hammock chair stand to provide extra comfort, and gaze at the stars. The unobstructed view and comfortable reclining position make it ideal for long stargazing sessions.
Final Thoughts
There you have it – ten unique ways to utilize your hammock stand. It's not just about napping in the sun (though we love that, too!). With a dash of creativity, your hammock stand can serve as a hub for a multitude of activities, from reading and stargazing to wildlife watching and socializing.
So, go ahead, look at your hammock stand with fresh eyes. Embrace these ideas, or let them inspire your own. Remember, the only limit is your imagination! So, get out there and make the most out of your hammock stand today.