Hammocks have been a favourite mode of relaxation for centuries, utilised by numerous cultures around the globe. Over time, they've evolved into a comfortable and handy way to savour the outdoors. Today's market offers a variety of hammocks, each boasting unique features and benefits.
Portable Comfort at Its Best
One of the main benefits of hammocks is their portability. They are lightweight and easy to set up, making them perfect for camping, hiking, and other outdoor activities. They can also be used in the backyard or on a porch, making them a great addition to any home.
Another benefit of hammocks is their comfort. They are designed to be suspended in the air, which allows for a more natural and relaxed position. This can help to reduce stress on the body and improve circulation, making them a great way to relax and unwind after a long day.
Hammocks and Health: A Beneficial Relationship
Believe it or not, hammocks offer more than just a relaxing place to lounge. Many health benefits are associated with regular hammock use, making it more than just a piece of outdoor furniture. When you lay on a hammock, your weight gets evenly distributed, reducing pressure points and promoting proper alignment of your spine. This can help alleviate back pain and may improve your posture over time.
Moreover, the gentle rocking motion of a hammock can have a profound effect on your mental well-being. The swing can stimulate the brain waves responsible for deeper levels of relaxation, making hammocks an excellent stress-relieving tool. This soothing motion can also help improve the quality of your sleep. Research has shown that the back-and-forth swinging can help you fall asleep faster and achieve a deeper state of sleep, making hammocks not just a place to relax, but a place to rejuvenate.
A Spectrum of Hammocks to Choose From
Modern markets feature numerous types of hammocks. Some are crafted from traditional materials like cotton or nylon, while others incorporate modern materials such as mesh or synthetic fabrics. Some are perfect for one, while others are spacious enough to accommodate multiple people.
When selecting a hammock, it's crucial to consider its intended use. If it's meant primarily for camping or bushwalking, a lightweight and portable option would be best. For use in a backyard or on a verandah, a larger and comfier option might be your ideal choice.
In addition to traditional hammocks, there are also several other types of hammocks available, including:
Standalone hammocks: These hammocks don't require trees or other anchors to hang from, instead they have a stand to hold them up.
Double hammocks: These are larger than traditional hammocks and can accommodate two people.
Hammock chairs: These are smaller than traditional hammocks and are designed to be suspended from a single point, allowing for a more upright sitting position.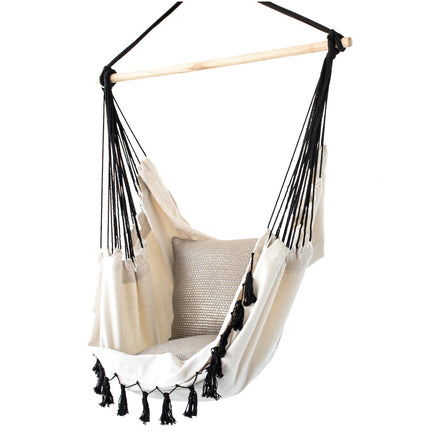 No matter what type of hammock you choose, it is sure to provide a comfortable and relaxing way to enjoy the outdoors. So, whether you're camping in the wilderness or simply lounging in your backyard, a hammock is a great way to unwind and enjoy the beauty of nature.
When hanging a hammock, it's important to choose sturdy anchor points. Using proper hanging techniques and equipment such as tree straps or hanging kits to protect the trees. It is also important to pay attention to the weight limit of the hammock, and never exceed it.
Conclusion
In conclusion, hammocks are a great way to relax and enjoy the outdoors. They are portable, comfortable, and come in a variety of styles to suit different needs. With a little bit of care and attention, a hammock can provide many years of enjoyment. So, whether you're camping in the wilderness or lounging in your backyard, a hammock is a great way to unwind and enjoy the beauty of nature.