Hammocks are the epitome of relaxation and comfort, providing a serene escape from daily stress. To truly elevate your hammock experience, choosing the right stand is essential. In this article, we will guide you through the process of selecting the perfect hammock stand, highlighting the exquisite Wooden Hammock Stand from Siesta Hammocks as an exceptional option. Get ready to transform your backyard into a soothing sanctuary with this durable and stylish stand.
The Ultimate Wooden Hammock Stand Guide
Consider the Material
A hammock stand's material plays a pivotal role in defining its durability, appearance, and maintenance. Siesta Hammocks' Wooden Hammock Stand, fashioned from top-notch pine wood and sealed with weather-resistant varnish, ensures lasting strength and beauty.
This environmentally responsible choice blends seamlessly with various outdoor settings, delivering a touch of nature's charm. Its authentic wood texture and exquisite design add to the natural aesthetics, making it a sophisticated addition to any garden.
Assess the Weight Capacity
Choosing a stand with the appropriate weight capacity is crucial for safe enjoyment. With a 200kg weight capacity, the Wooden Hammock Stand accommodates single or double hammocks, ensuring stability whether you're lounging alone or with company.
The robust capacity offers flexibility and peace of mind, allowing you to experience maximum comfort without the concern of overloading. It's a practical feature that makes this stand suitable for various user needs.
Examine the Stand's Dimensions
The stand's dimensions must align with your hammock to provide optimal support. Measuring 3.2 meters, the Wooden Hammock Stand fits most hammocks. Its adaptable design ensures easy attachment and compatibility.
By choosing a stand with compatible dimensions, you prevent unnecessary sagging and prolong the life of your hammock. This balance ensures that your hammock retains its shape, allowing you to savour its comfort for years to come.
Explore the Stand's Design
The design and aesthetics can greatly influence your outdoor space. The Wooden Hammock Stand's unique arc shape adds artistic flair, harmonising with the natural sway of your hammock.
Its elegant design is both attractive and functional, effortlessly becoming the focal point of your garden or patio. The curvature and finish are intentionally crafted to enhance your outdoor aesthetics, reinforcing a peaceful ambiance.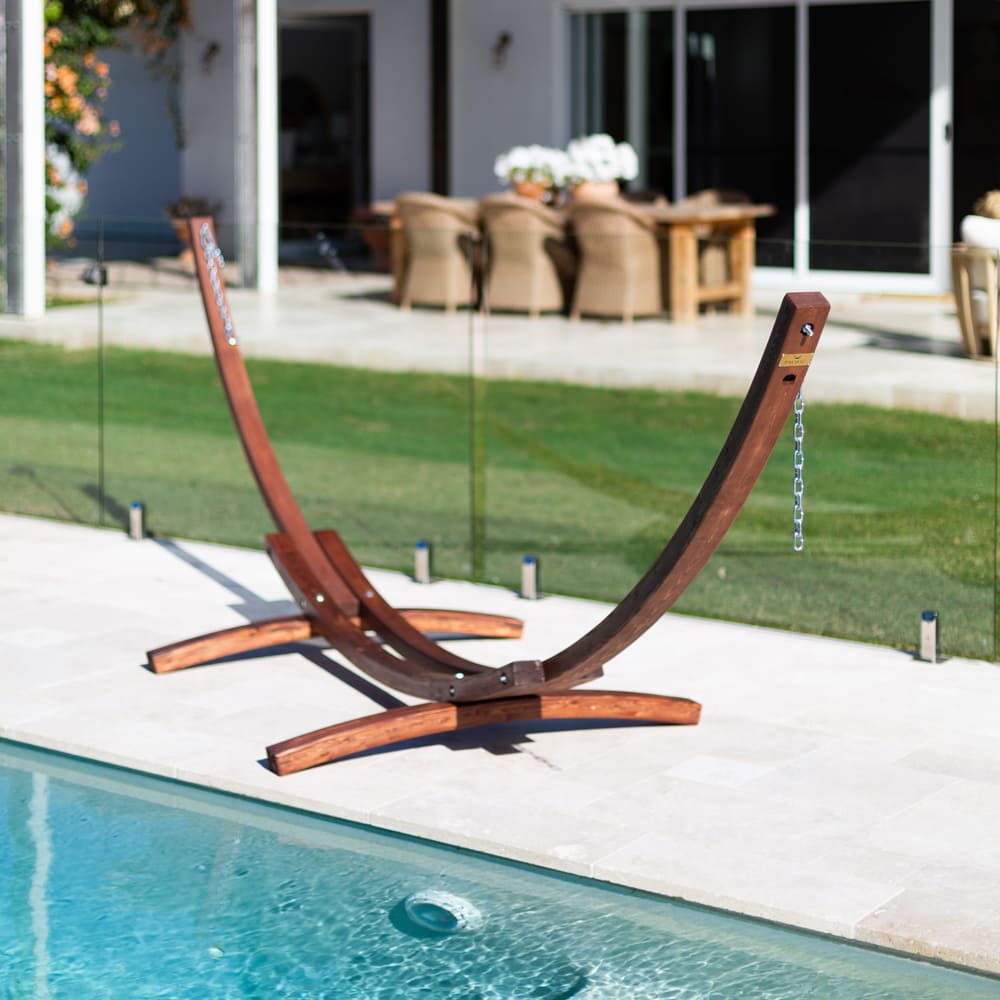 Considering Assembly and Portability
If portability is key, consider how easily the stand can be assembled. The Wooden Hammock Stand comes with clear instructions and essential hardware, making assembly a breeze even for novices.
Though not the most lightweight option, this stand's sturdy build ensures a long-lasting solution for those prioritising stability. Whether placed on the patio or in the garden, its design allows for reasonable repositioning, aligning with your changing needs.
Evaluating Price and Value
Balancing Quality and Cost
Choosing a hammock stand requires weighing quality against cost. The Wooden Hammock Stand, though pricier than some alternatives, delivers unparalleled durability, style, and comfort.
An Investment in Relaxation
This stand is more than just a purchase; it's an investment in countless hours of peaceful enjoyment. The value derived from the serene lounging experiences far outweighs the initial cost, making it a wise addition to your relaxation repertoire.
Conclusion
Elevating your hammock experience begins with choosing the ideal stand. The Wooden Hammock Stand from Siesta Hammocks checks all the boxes, offering a durable, stylish, and versatile option to support your hammock. By considering factors such as material, weight capacity, dimensions, design, assembly, and price, you can confidently select this stand as the perfect addition to your outdoor space. So, prepare to indulge in the ultimate hammock experience as you sway gently, supported by the Wooden Hammock Stand, and enjoy the tranquility of your own backyard haven.