There's a certain tranquil beauty about gently swinging in a hammock on a lazy afternoon, an open book resting on your lap and the sweet chirping of birds serenading you. Whether you're a fan of a classic hammock, a hammock with stand, or a hammock chair stand, there's one accessory that can take your relaxation to a whole new level – a wooden hammock stand.
Let's explore the wonderful world of wooden hammock stands, their aesthetic appeal, robust strength, and their seamless fit with a multitude of hammock types including free-standing hammocks, double hammock with stands, and hammock chairs with stands.
Elevating Aesthetics with Wooden Hammock Stands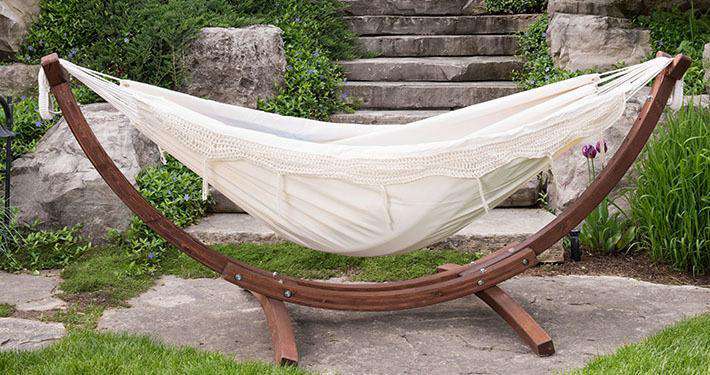 One of the primary reasons to opt for a wooden hammock stand is the elegance it brings to your outdoor space. A well-crafted wooden hammock stand is more than just a functional piece; it's a work of art. The grains and colour variations of the wood, whether it's lustrous teak or rustic pine, can beautifully complement your hammock and the surrounding natural elements.
In contrast to metal or plastic stands, wooden stands have a timeless charm that helps them blend harmoniously with outdoor settings. Imagine your hammock with a stand gracefully stretched on a curved wooden structure, set amidst a lush green lawn. It doesn't just look pretty; it invites you to step in and unwind.
Strength and Durability of Wooden Hammock Stands
Beauty is not the only virtue of a wooden hammock stand. These stands are incredibly sturdy, capable of supporting substantial weight. Unlike their metal counterparts, which can rust or bend over time, wooden stands can endure the rigours of outdoor elements while retaining their strength.
For double hammock users, a wooden hammock stand is an excellent choice. It can comfortably handle the extra weight without compromising on stability. Imagine enjoying a beautiful sunset with your partner on a double hammock with a stand, feeling secure knowing that the strong wooden stand has got you supported.
The Versatility of Wooden Hammock Stands
Another exciting aspect of wooden hammock stands is their versatility. They come in a variety of sizes and designs, meaning you can find the perfect stand for any type of hammock you own.
If you're an owner of a hammock chair, a specifically designed hammock chair stand can be the perfect fit. This type of stand allows you to suspend your hammock chair with ease, creating a cosy corner in your garden or patio. With a wooden hammock chair stand, you don't need to worry about finding trees at just the right distance or drilling into your ceiling.
For those who love the traditional hammock setup but lack suitable tree support, a free-standing hammock with a wooden stand is a fantastic solution. The stand enables you to position your hammock anywhere - next to your pool, in the middle of yourgarden, or even on your deck. The possibilities are endless, and you're not constrained by natural structures or man-made fixtures.
A Sustainable Choice
In today's eco-conscious world, the sustainability of products we buy is an essential factor to consider. Wooden hammock stands, especially those crafted from responsibly sourced wood, offer an environmentally friendly alternative to metal or plastic counterparts. This factor makes your lounging experience not just enjoyable, but also aligned with the values of sustainability and respect for nature.
Ease of Assembly
Think wooden hammock stands are challenging to assemble? Think again. Many models come with a simple, easy-to-follow assembly process, letting you set up and dismantle the stand as needed. This feature makes wooden hammock stands an excellent choice for those who want a portable option for their hammocks.
Let's consider the portable hammock stand options from Siesta Hammocks, for instance. These stands can be easily disassembled and packed, allowing you to take your hammock with you on camping trips or family outings. Even at home, the ease of assembly means you can quickly move your hammock around, chasing the sun, the shade, or that perfect view!
Investment Worth Making
While wooden hammock stands may come at a higher price point compared to other types, they offer great value for money given their durability, aesthetics, and versatility. A well-maintained wooden stand can last for years, becoming a semi-permanent feature of your outdoor space that only gets better with time.
Now that we've covered the various advantages of wooden hammock stands, the next logical step would be to invest in one. As with any purchase, it's essential to choose a stand that best fits your hammock style and outdoor space. Evaluate the size, weight capacity, wood type, and design before making your decision.
Conclusion
A wooden hammock stand offers a perfect blend of aesthetics, strength, versatility, and sustainability, making it an excellent choice for any hammock lover. Whether you are rocking a hammock chair, a free-standing hammock, or a double hammock with stand, there's a wooden stand waiting to elevate your experience.
So next time you picture yourself lounging in your hammock, imagine it swaying gently on a beautiful, strong wooden stand. Not only will it provide a stable support for your hammock, but it will also add an irresistible charm to your outdoor space. Remember, the best moments of relaxation and peace are often found in the sway of a hammock suspended on a wooden stand.
Go ahead and explore the range of wooden hammock stands and other hammock accessories at Siesta Hammocks. You're sure to find the perfect addition to your outdoor oasis. Happy hammocking!
With the beauty and strength of wooden hammock stands, you don't just buy a product; you invest in a lifestyle of relaxation and outdoor enjoyment. Whether you're soaking in solitude or sharing a sway, a wooden stand ensures your hammock experience is as stable as it is satisfying.