With every passing day, life seems to be moving faster. We're all searching for that oasis of calm, a personal paradise where time slows down and we can escape the rush of modern life. A hammock with stand could be the perfect solution - an instant island of relaxation you can set up anywhere, anytime.
Imagine the freedom of a portable hammock with stand. You no longer need two perfectly spaced trees. Now, you can set up your cozy hammock in your backyard, at the beach, or in your favorite camping spot. It's like having a comfortable, swinging bed wherever you go.
Let's dive into the world of hammocks with stands, explore their benefits, discuss the different types available, and help you find the perfect hammock that will transform your outdoor relaxation.
Portable Convenience for Double the Fun
First up is the double hammock with stand from Siesta Hammocks. It's a wonderful option for couples or anyone who enjoys a little extra room. Designed to accommodate two adults, this hammock is perfect for snuggling under the stars or lounging with a good book.
The double hammock offers a unique blend of comfort and durability. It's made from high-quality materials that can withstand outdoor conditions, and its sturdy stand ensures a safe and stable hang, even with two people. With its easy assembly and portability, it's perfect for backyard barbecues, beach trips, or camping adventures. Just pack it up, set it out, and relax.
The Comfortable Seat in the House - Or Anywhere!
Looking for something a bit more upright? Consider a hammock chair with stand. It offers the same comfort and relaxation as a traditional hammock but in a more seated position, making it a great option for reading, working, or just chilling out.
Siesta Hammocks offers a range of hammock chairs with stands that are as stylish as they are comfortable. They're easy to set up and move around, giving you the freedom to find your perfect spot in the sun (or shade). With a variety of designs and colours, you'll find the perfect hammock chair to match your personal style and outdoor décor.
Baby's First Hammock
Even our smallest family members can join in on the hammock fun. A baby hammock with stand is a unique, fun, and comfortable solution for your little one's relaxation needs.
These baby hammocks are designed with safety and comfort in mind, with features like secure harnesses and gentle rocking motions that can help soothe your baby to sleep. And, just like the adult versions, they're portable – so baby can nap in style, whether you're at home, visiting family, or enjoying a day at the park.
Top Picks from Siesta Hammocks
Now that we've introduced you to the world of hammocks with stands, let's dive a bit deeper into our top picks from Siesta Hammocks:
The Portable Hammock Stand: It's a versatile option that's compatible with a range of hammock styles. Its durable construction and easy assembly make it a reliable choice for hammock enthusiasts.

The Hammock Chair Stand: This product combines comfort and style, and it's just as easy to set up as it is to pack away. This stand is perfect for those looking to enjoy a relaxed, seated position.
The Hammock with Stand: This classic combination offers the best of both worlds. With a sturdy stand and a comfortable hammock included, it's an all-in-one solution for your relaxation needs.

The Hammock Chair Stand Bundle: A complete package, it includes both the hammock chair and the stand. It's the perfect choice for anyone who loves the freedom to swing and sway.
Benefits of a Portable Hammock with Stand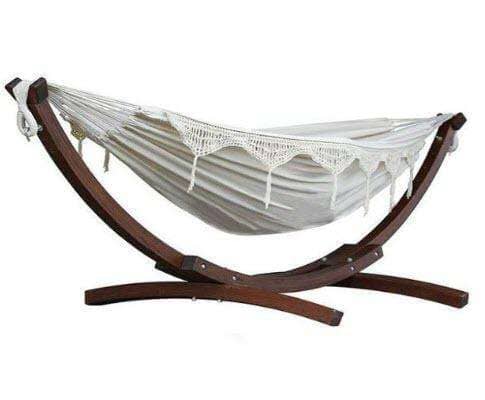 So why choose a portable hammock with stand? Here are a few reasons why it's becoming a must-have for outdoor relaxation:
Flexibility: With a portable stand, you can set up your hammock wherever you want - in your backyard, on a camping trip, or even on the beach. You're not limited to locations with trees or other structures for support.
Ease of use: Hammocks with stands are typically easy to set up and take down, making them a practical option for people of all ages and abilities.
Durability: Many hammock stands are designed to withstand various weather conditions, making them a long-lasting investment for your outdoor living space.
Comfort: Hammocks are naturally comfortable, but the right stand can enhance this, providing a stable, secure space for you to relax and unwind.
Variety: Whether you're a fan of the traditional hammock, a hammock chair, or even a double hammock, there's a stand to suit.
Choosing the Right Hammock with Stand
With so many options available, how do you choose the right hammock with stand? Here are a few factors to consider:
Space: Consider where you plan to use your hammock. If you're thinking about setting it up in your backyard, make sure you have enough space for the stand and hammock. If you plan to bring it on camping trips, check that it's portable and easy to assemble.
Weight capacity: Check the weight capacity of the hammock and stand. If you're considering a double hammock, make sure it can safely support the weight of two adults.
Material: Look for durable materials that can withstand outdoor conditions. A good hammock will be made of strong fabric that's also comfortable to lie in, while the stand should be sturdy and resistant to rust.
Design: Choose a design that suits your lifestyle and tastes. If you prefer a more upright position for reading or chatting, a hammock chair might be your best bet. If you're after a traditional, laid-back hammock experience, go for a classic hammock with stand.
Safety: If you're buying a baby hammock, ensure it has all the necessary safety features like secure harnesses and a stable stand.
Whether you're a seasoned hammock lover or a curious newcomer, a hammock with stand could be your ticket to outdoor relaxation. With a range of styles and sizes available, there's a perfect hammock waiting for everyone.
At Siesta Hammocks, we're passionate about bringing the joy of hammocks to people across Australia. Our collection of hammocks, hammock chairs, and stands are designed to help you find your perfect piece of paradise. So why wait? It's time to embrace the hammock lifestyle. Sit back, relax, and let the world sway gently by.
Conclusion
Choosing a portable hammock with stand as your new travel companion brings a world of freedom and relaxation. No matter where you're headed - be it the beach, the woods, or just your backyard - you'll always have the perfect spot to kick back and unwind.
At Siesta Hammocks, we offer a wide range of hammocks with stands to cater to everyone's needs - from the double hammock for couples or space lovers, to the hammock chair for those who prefer a more seated relaxation style, and even the baby hammock to introduce your little ones to the joys of a gentle sway.
It's time to explore, relax and create memorable moments with your new travel companion, the portable hammock with stand.