Hammocks in Brisbane offer more than just a trendy outdoor accessory; they are a sanctuary from daily grind. Thanks to Brisbane's consistent sunny clime, it's a prime locale for a tranquil hammock experience. Dive deep into the collection offered by Siesta Hammocks, Brisbane's hammock hub, and find your personal paradise.
Siesta Hammocks: Your Go-To Hammocks Destination in Brisbane
At Siesta Hammocks, you can discover a fantastic collection of hammocks suitable for any outdoor space. Whether you're looking for a classic rope hammock or a stylish fabric design, We got you covered. We pride ourselves on providing quality hammocks at competitive prices, ensuring that you'll be able to find the perfect addition to your backyard or patio.
Brisbane's Hammock History: More Than Just a Trend
From Brisbane's coastal shores to its bustling urban centre, hammocks have been an integral part of its outdoor culture for years. The indigenous communities of the region introduced early settlers to the concept of hammocks, using them not just for relaxation but as vital sleeping tools. The ease with which they could be set up, the minimalistic design, and the comfort they provided in Brisbane's warm climate made them an instant hit. Over the years, the hammock's role evolved from a functional item to a symbol of leisure and relaxation, deeply embedded in Brisbane's outdoor-loving ethos.
Fast forward to today, Siesta Hammocks has tapped into this rich history, marrying tradition with modern design. They recognise that the hammock's significance in Brisbane isn't just tied to its function but to its cultural and historical roots. By providing a vast range of designs, they cater to both the purists, who want an experience reminiscent of old Brisbane, and the contemporary crowd looking for modern twists to this age-old relaxation tool.
Double Size Latin Hammock: A Touch of Exotic Comfort
The Double Size Latin Hammock  is a must-have for anyone seeking a comfortable and spacious relaxation spot. Made from 100% soft cotton, this hammock is designed to comfortably fit two adults, making it perfect for couples or sharing with a friend. The intricate handwoven patterns and rich colours give it an exotic flair, transporting you to a tropical paradise right in your own backyard. It's also available in a variety of colour combinations, so you can find the perfect match for your outdoor space.
Large White Canvas Hammock with Tassels: An Elegant Retreat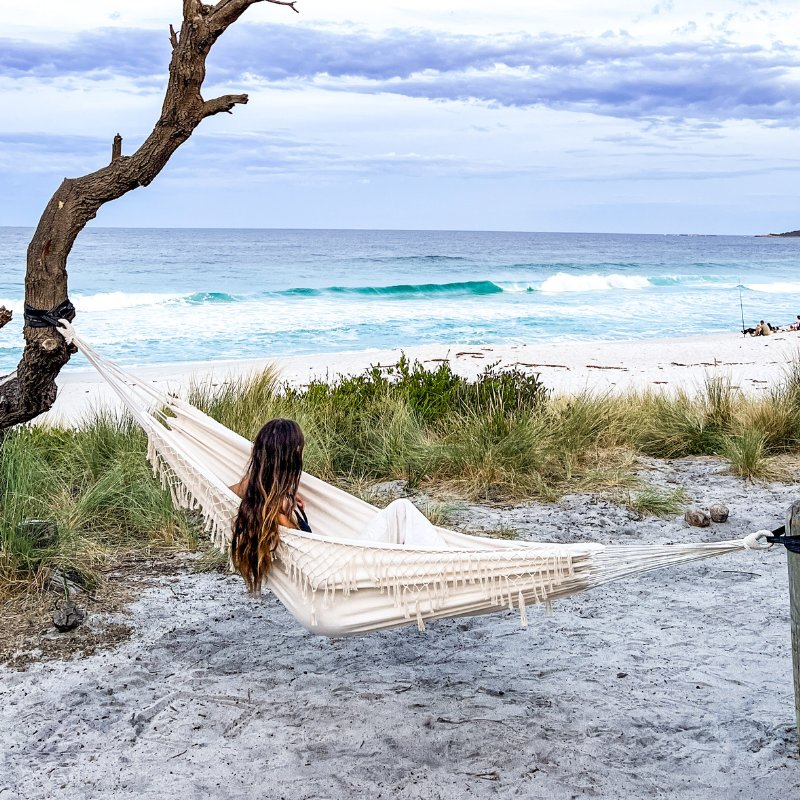 If you're searching for a more elegant and sophisticated hammock option, look no further than the Large White Canvas Hammock with Tassels. This stunning hammock features a durable, high-quality canvas fabric with an eye-catching design. The tassels hanging from the sides add a touch of luxury and style, making it an excellent choice for those seeking a refined outdoor retreat.
The spacious design of this hammock allows you to stretch out and relax, while the soft, breathable fabric ensures you stay cool and comfortable on warm Brisbane days. The neutral white colour of the hammock makes it a versatile addition to any outdoor space, complementing a wide variety of design styles.
Why Choose a Hammock in Brisbane?
Brisbane's climate is perfect for hammock enthusiasts. With warm temperatures throughout the year, you'll have plenty of opportunities to enjoy the comfort and relaxation of your hammock. In addition, hanging a hammock in your outdoor space can transform it into a serene and inviting retreat, perfect for reading, napping, or simply enjoying the beautiful Brisbane weather.
Hammock Stands and Accessories: Complete Your Oasis
In addition to their fantastic selection of hammocks, Siesta Hammocks also offers a range of hammock stands and hammock accessories to help you create the perfect backyard retreat. From sturdy wooden stands to portable metal options, you'll find everything you need to securely hang your hammock and relax in style.
Accessories such as hammock pillows, storage bags, and hanging kits can further enhance your hammock experience, ensuring that you have everything you need for the ultimate relaxation experience. With the right hammock, stand, and accessories, your Brisbane backyard can become a tranquil oasis where you can escape from the stresses of daily life.
Get Started with Your Hammock Journey Today
Don't wait any longer to experience the bliss of relaxing in a hammock in your own Brisbane backyard. Visit Siesta Hammocks online today to browse their incredible selection of hammocks, stands, and accessories, and transform your outdoor space into a haven of relaxation and serenity. With Siesta Hammocks, you can rest assured that you're getting the best quality and value for your money, allowing you to fully enjoy the many benefits that hammocks have to offer.
So, whether you're an experienced hammock enthusiast or new to the world of outdoor relaxation, Siesta Hammocks has everything you need to create the perfect hammocks Brisbane experience. Don't wait any longer—dive into the world of hammocks and discover the unparalleled comfort and relaxation that await you.