The sun may be shining or hiding, regardless of the season, Siesta Hammocks has got your relaxation covered! We present to you our Steel Stand and Mexican Chair combo, an ideal companion for every season. Perfectly suited for that special spot on your balcony, alfresco or even a cosy corner of your office! Escape to a serene retreat for a good read or a rejuvenating siesta.
WHY RELAXING IN A HAMMOCK IS SO GOOD
Hammocks, known for their tranquillity, support your body in an optimum restful posture. Their gentle rocking motion engages our vestibular system, regulating balance in the brain, promoting relaxation, and inducing deep sleep.
Join us as we delve into the relaxing aspects of hammocks, explore the idea of sleeping in one, and learn about their historical usage by sailors.
COMFORT REDEFINED
The idea of sleeping in a piece of fabric slung between two trees might seem less appealing than your comfy bed. Yet, your first encounter with a hammock will change this perception. Hammocks are nothing short of revolutionary when it comes to comfort. Our ancestors indeed knew best!
Hammocks promote relaxation through their gentle conformity to your body. They offer support along the natural curve of your body. The hammock's design encourages sleeping on your back with your head slightly elevated, providing the perfect sleeping position.
Sleeping in a hammock benefits our physical and emotional health as it allows our bodies and minds to relax. However, bear in mind, studies on the long-term effects of frequent hammock sleeping are limited. So, think twice before permanently swapping your bed for a hammock.
CAN YOU SLEEP ON IT?
Is it helpful for your back to sleep in a hammock? A hammock will undoubtedly keep you in place, softly supporting your shoulders, back, and (let's be honest) butt. Because you're gripped so tightly, you're less prone to toss and turn restlessly. Mattresses might feel hard to those of us who suffer from back discomfort; hammocks fully eliminate that feeling.
Of course, if you have back problems, you should consult a doctor before replacing your bed with a hammock.
MENTAL HEALTH BENEFITS OF HAMMOCKS
It's all too easy to put other things ahead of your mental wellness. Many people put off protecting and promoting excellent mental health practices. However, if you're having trouble finding time for some much-needed self-care, the solution might be close at hand.
Here are some of the most important advantages hammocks can provide for your mental wellness.
Good Sleep
It's a tried-and-true method, with a hammock as the logical next step. As previously said, gently rocking or swaying on a hammock promotes a restful night's sleep. A well-made hammock adjusts and molds your body while giving support, allowing you to relax and heal. You wake up rejuvenated, refreshed, and ready to take on the day after settling in a hammock.
Help Improve Blood Circulation
When you're in a hammock, your upper body is somewhat lifted. You might even notice a difference in the appearance of your skin! It improves blood flow to your head, which can help alleviate annoying congestion, lower blood pressure, and reduce toxin build-up in your body.
Helps Improve Focus and Attention
It's directly related to getting a better night's rest. Your brain has more time to rejuvenate and refocus when you're well-rested. A good night's sleep can help you be more productive the next day. Beyond that, the vestibular system functions assist your mind in focusing and reducing distractions.
Helps Improve Mental Health
The day's aches and pains might be rather literal. Have you ever been sick or had to cope with a sudden stiff setback after a very stressful day or week? Your emotional mood has a direct impact on your physical well-being! Too much stress can result in headaches, stomachaches, and muscle tension. With a hammock, please get rid of it, both symbolically and physically! Hammocks feature no pressure points, allowing you to rest completely and release aches and pains.
Great Stress Reliever
All of this adds up to a lower level of stress. Hammocks aren't a miraculous cure-all for your mental health problems, but they are a good method to detach and focus on the present moment rather than everything that is weighing you down. Consider relaxing in a hammock with a nice book or listening to music while slowly swaying. Give yourself a break with a cup of coffee, tea, beer, or glass of wine; you've earned it.
HAMMOCKS AND NATURE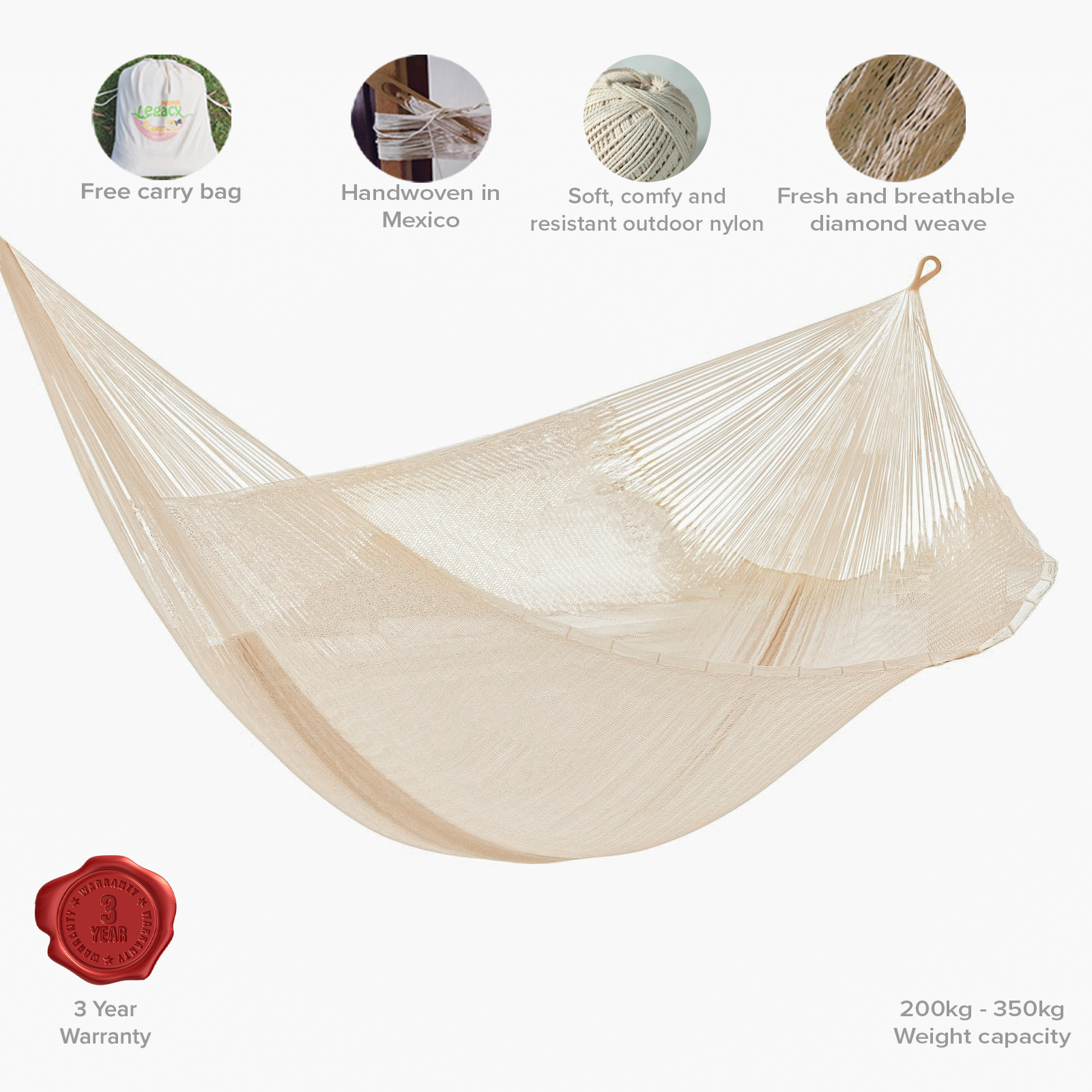 Almost everyone will agree that getting outside and enjoying nature is something they enjoy doing. But who wants to be honest? When was the last time you marveled at the wonders of nature? We live in a period when many of us have become more disconnected from nature than ever before. Yes, life happens, as does having children, working, and doing chores. However, we must all find a way to reconnect with that link once more.
We can think of many more methods, but today we'd like you to concentrate on just one. Did you know that hammocks are an excellent way to interact with nature?
Nothing else can provide you serenity and help you refresh your thoughts as nature can. We propose that you lay in your hammock for 15 minutes every day. Deeply inhale the pure air. Take note of the trees, leaves, and grass. Admire the birds and try to identify as many as possible. We can boost our health and well-being by spending time in nature. It relaxes us, lowering our stress, anxiety, and rage levels.
FINAL THOUGHTS
Experience relaxation with Siesta Hammocks today by exploring our range of hammocks and hammock chair bundles. We're here to make your relaxation dreams come true!
Visit www.siestahammocks.com.au, or have a chat with one of our friendly hammock consultants today. Call us on (02) 8006 8152. We've got you covered!